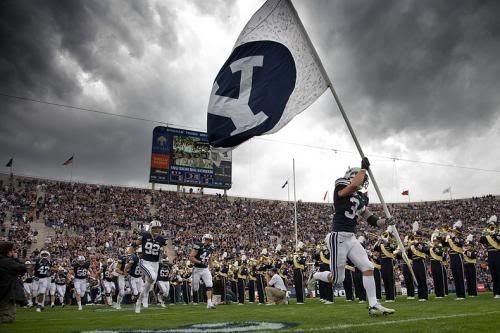 One week till the start of BYU's football season. Every year I like to use a post to predict how BYU will do this year, and talk about the team we follow. I've loved BYU since I was a kid, Cheyn enjoys some games, and Sam is being raised right, so we got a family full of Cougar fans.
This year I am actually headed to a road game in Tallahassee, where BYU will take on Florida State. I have been looking forward to this for years and our friend Ridge hooked me up. Can't wait! Dr. Dr. (Stan) will also be in attendance.
This has been an interesting year for BYU. They are coming of their fourth season of being ranked in the top 25, and beat three ranked teams last year. Their top RB, QB, and All-American TE from last season all went to the NFL. The offseason has had some interesting twists and turns. The University of Utah has been invited to the Pac 10. Currently BYU has been mulling over going Independent, so the fans can actually watch more games and BYU can get more money and a better schedule.
This season's team should be young and talented, but a bit inexperienced. BYU is known for their potent offense and history of QB's, and there is
competition this year
to who starts at that position. This will probably be the main plot line this season. Most predict the Freshman QB Jake Heaps to be in charge of the offense by the end of the season. The Defense should be better than usual this year. They are well coached and BYU has an excellent history of consistent achievement, so don't expect BYU to fall off much this year.
Last year
I predicted a 11-2 BYU and was right on. This year, I think BYU will still do well, but more in the neighborhood of 9-10 wins including the bowl game. FSU and TCU should be the toughest opponents and they may slip up somewhere else along the line, probably at the start of things.
So were ready for another fun season of following and cheering for our Alma Matter.